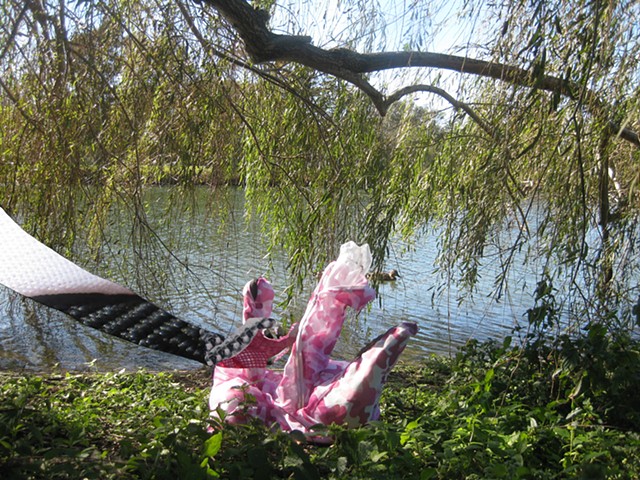 Bio:
J Knoblach lives and works in New Orleans but was born in Slidell near Honey Island Swamp. The combination of running cross country and track and studying feminist body art led to an interdisciplinary practice rooted in performance. Byproducts of a physical action may become sculpture, photography, video, or text. In some instances, the audience is invited to interact directly with the work, such as the installation Divest. Solo exhibitions include Demi-Decade at Staple Goods (2021), Point Nemo Full of Mermaid Tears Hallowed Be thy Name at the Contemporary Arts Center New Orleans (2021), Magenta Alert at Staple Goods (2017) and Welcome to the #socialartwork at Good Children Gallery (2014). Knoblach has also had artwork exhibited at Artsy via LeMieux Galleries, Foundwork, the Ogden Museum, the Louisiana State Museum, the New York Transit Museum, the Museum of Modern Art in NY, Makeshift Museum in L.A., Museo de la Ciudad de México, LABOR Gallery in Mexico, Pari Passu Gallery in Queens, UNO St. Claude Gallery, Barrister's Gallery, The Front Gallery, Antenna Gallery, Boyd Satellite Gallery, and Fossil Free Fest. Knoblach has publications in 101 Contemporary Artists, New Orleans Art Review, Artvoices Magazine, and their artwork is in the special collections of Koç University (Istanbul), the Collins C. Diboll Library (New Orleans), as well as in private collections.


Statement:
I am committed to documenting traces of the body's movements. I am committed to making immersive installations in which the viewer has a bodily interaction. I am committed to communicating a narrative using time-based or new media.
A "shy exhibitionist," I frequently turn the gaze on myself as the object. I yearn to perform yet I disguise, conceal, or collage over my form.
I feel comfortable outside the studio on a physical site, and I thrive on conquering skills in new mediums that require layered processes. My projects often invite my small community to participate in a kinaesthetic activity alongside me. Like the Dadaists who reveled in chance and interactivity, I often create projects which rely on community to help mold the final product.
I enjoy sharing the intimacy of artmaking with others, while simultaneously bucking the traditional ideas around sole-authorship.
'Magenta Alert' is an endurance performance taking place at Bayou Bienvenue, Lake Fausse, West Pearl River, Mississippi River, Lac des Allemands, Gulf of Mexico, and future waterway sites. The project involves several collaborators including but not limited to Caitlyn Ridenour, Leone Julitte, Gabby Garcia Steib, Julie Dermansky, Mayaba Liebenthal, Nisa East, Sarrah Danziger, Alahna Moore, and Kristina E. Knipe. Along with collaborators' still images preserving the performance, I autonomously create audio as well as time-based installations capturing and/or altering those moments in time.
Balancing out the careful planning, communicating, collaborating, and physical exertion of the 'Magenta Alert' series, the 'Touch' series is quiet and solo, with one appendage in motion. It similarly touts landscape, uses non-private materials, and centers water. Following movements interacting with a fabric-plastic sculpture, I make still and time-based digital paintings by placing sculptures' colors and textures onto body forms.
Feel free to seek out the publications section for any further interpretations.


Links to collaborators' websites are in the captions of the 2-D section.